Events
Good News Association "COVID-19 Grocery Delivery Initiative"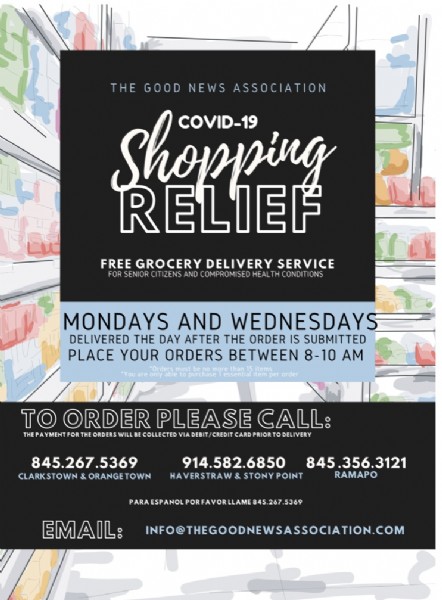 Our Goal:
To serve as many seniors, those with compromised health and those in quarantine that call on us for help with the delivery of their groceries as well as those that request our assistance during these unprecedented times.
News:
Due to selfless volunteers we have been able to serve delivering over 70 grocery orders in the last three weeks. Because of the generosity shown to our ministry by many, the Good News Association - COVID-19 Grocery Delivery Initiative has met the needs of families donating approximately 215 bags of groceries.
Looking Forward:
In the coming weeks we will be facing an increase in request for both grocery delivery and needs. We believe we will be receiving calls from those that have relied on us before in addition to new callers. As news of the GNA Grocery Delivery Initiative spreads via social media and partners in our mission to serve, showing compassion and love will be greatly expanded.
Needed:
Volunteers needed in order to continue to provide care for our seniors, those with compromised health and those in quarantine. We need more volunteers who are willing to fulfill the grocery orders requested by gathering specific items ordered and our grocery donated packages at the supermarket (Food Fair and Aldi). Also needed volunteers who will deliver groceries and assess what further assistance GNA can be to the recipients. As the need continues to rise, we will appreciate donations that will help provide the continuation of our mission.
Donations may be made to Good News Association via Paypal, Vemo or check mailed to:
Good News Association, 169 S. Main St, New City, NY 10956
Changes:
In order to best serve our community, our new call in schedule beginning May 1st will be Monday & Wednesday from 8:00 AM – 11:00 AM. Fulfillment and deliveries will be done Tuesday and Thursday. This will allow us to receive orders and arrange fulfillment and delivery in a more efficient way and less taxing on our volunteers. Additional oversight to our goal will be a more targeted inquiry of calls received assuring the proper service to the proper population we are seeking to serve.